Panama Condo Rentals in Playa Blanca, Panama
Panama is a striking Central American country with miles upon miles of breathtaking shores on the Caribbean Sea and the Pacific Ocean. Just 2.5 hours away from Miami, Panama uses the American dollar (called a Balboa) as currency, is safe, fun, full of adventure, and welcomes Americans and visitors from South America and other countries with open arms. Plan your vacation getaway to beautiful Playa Blanca Resort at one of our affordable condos. The Playa Blanca Resort will truly have a community feel with the second largest swimming pool in the world, spa services, nightclub, and casino.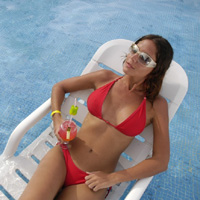 Panama Condo Rentals focuses mainly on luxury beachfront rentals at the breathtaking Playa Blanca Resort in Farallon, one of the most exclusive beach communities in Panama. The Playa Blanca Resort & Hotel is a drive of just an hour and a half from Panama City. We feature 2-bedroom, 2-bathroom condos at Villa Azul and 3-bedroom, 3-bathroom apartments at Los Balcones on the ocean available to rent by the weekend, week, or month. Enjoy your very own affordable condo on the Pacific Ocean with all the comforts of home including a full kitchen and relaxing balconies.
All guests of Panama Condo Rentals have access to the grounds, facilities and beach that stretches on for miles while having the choice to be a part of the all-inclusive hotel just a stone throw away. With options of a relaxing getaway with spa services and napping on the white shores or an action-packed vacation filled with rappelling and jet skiing, the Playa Blanca Resort and Panama Condo Rentals cater to all your needs. All guests will enjoy the spectacular views of the exotic palm tree-covered land surrounding the 210 acres the resort is built on. You can go out on the Pacific Ocean on a jet ski or just relax while your children enjoy the beach, sand, and sun.
In addition to the 2 pools at the Playa Blanca Resort, the soon-to-be-completed 17-acre swimming pool located by the Town Square will be the second largest swimming pool in the world. Surrounded by white sand and holding more than 600,000 gallons of water, there will be an extended range of pool activities, including sailing, kayaking, swimming and diving, available for all water sports lovers young or old.
Come stay with us and experience the vacation of your dreams at Playa Blanca on Panama's Pacific Coast and let Panama Condo Rentals arrange your stay. Panama Condo Rental Rates and Reservations.